Welcome to everyone!
Whether you are traveling with family and children or friends,
whether you are looking for a relaxing vacation,
being a boater - whatever size and kind of boat you intend to bring or rent or deserve a great place for a staycation
- you found it!
Introducing our latest gorgeous vacation home! Luxurious four-bedroom suites home featuring top-of-the-line furnishings, appliances, flooring, and fixtures located in the distinguished, Gold Coast Estates community - the boat ride to the river takes only 2 minutes. You'll find awe-inspiring designs, modern amenities, and unprecedented finishes in this absolutely breathtaking luxury home with a superlative infinity pool and infinity spa of a total of 54 ft./16.5 meters on a 2-level pool area. Do not miss the stunning view above the wide saltwater canals and sensational sunsets you might never forget.
With 3,069 sq. ft. under air, and a total of over 12,939 sq. ft. of indoor/outdoor spaces this spacious and ingenious refined home is perfect for families or a group of friends. Everyone can enjoy his or her personal comfortable temperature for a good night's sleep as the 5-Zone A/C enables you to control independently each suite and also the living area.
Feel the touch of the Caribbean/Mediterranean in and around the house, including a roomy lanai off the comfortable living room area. Enjoy a glass of your favorite refreshment or drink below the great tiki hut on our oversized boat dock while relaxing in the spectacular sunset while the chef in your family prepares a fabulous meal.
This one-level, sophisticated, and contemporary Mediterranean/Caribbean-style house has been designed and finished with an open floor living space, and a large, fully equipped kitchen with the professional-grade appliance. The Caribbean Island Dolphin View offers big flatscreen smart TVs in each room and a high-end audio/home theater. Guests in 3 out of the 4 suites have direct access to the pool area and 2 suites feature same-sized main suites. This sophisticated vacation home is available to rent as a 4-bedroom suite home. We supply up to 2 very comfortable queen-size inflatables for large families and groups to sleep you all.

Boaters are very welcome to bring their own boat, a boat ramp is just around the corner at Horton Park. Our oversized boat dock offers way more space you need to tie up any size boat. We think also about little details, which might not be important to everyone. If you plan a vacation but still have to keep up with ongoing business matters, you might wish to know we offer high-speed Xfinity WIFI and 2 FlipShelf Folding workstations which have space wherever needed.
You won't find more impressive views overlooking the wide canals, especially during sunsets, nor a better convenient-to-reach location or a more luxurious and perfectly and fully equipped vacation rental house in Cape Coral. If you are a sensitive guest and/or traveling with children, you might be grateful for having the information that in our location there are compared to the SW part of Cape Coral no "no-see-ums", which can ruin your vacation, and there are barely any mosquitoes. Booking with us, not over any internet platform, means renting with no extra fees directly from the owner.
We are proud to welcome you to our exceptional vacation home, Caribbean Island Dolphin View.

Reviews of our guests you find for example under HomeAway/VRBO as there we offer also this private vacation rental house Caribbean Island Dolphin View, which you may also book exclusively with us. No one else is allowed to rent our beautiful vacation home - we would like to make sure you learn what you get and what you pay for - directly from us. We are licensed at the Florida Department of Business Professional Regulation to rent our vacation home under license no. DWE4605801 and fulfill all requested standards.
The Caribbean Island Dolphin View vacation rental home in Florida is a unique dream vacation home and offers a large number of extras you may have on your wish list. If you are interested in renting this home directly from the owner just send an e-mail, make an easy click under contact, or click on the call me back button. We are looking forward to answering all questions you might have, also in a personal call.
Our friendly and helpful property manager is located in Cape Coral, and speaking English and German fluently. He will take care of you during your stay in our vacation rental home in Cape Coral.
The rental home Caribbean Island Dolphin View offers a very special Caribbean flair and is individually equipped with high-end features. It offers some extras, has lots of space, and a breathtaking pool area with an infinity pool and infinity spa in a pool area on 2 levels and a huge boat dock with a wide captain's walk. You may use also those areas for sunbathing or to moor your own boat or a rental boat.
Many of our sophisticated guests are repeating guests. They know and appreciate the high standards we have. They knew them as we also offered those standards in our former vacation homes. A good number of our former guests even booked our Caribbean Island Dolphin View when we were planning it, without seeing any floor plans or pictures of this home as they knew we would keep our promises - and confirmed we did.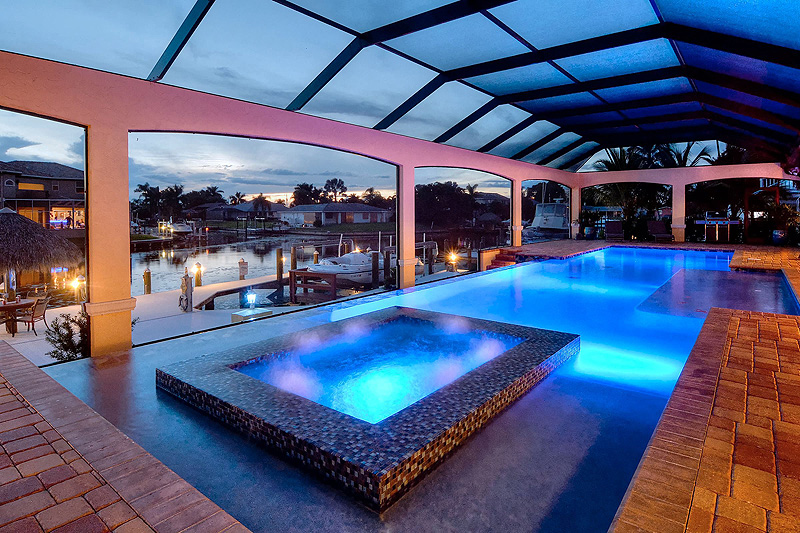 Luxury Rental Houses / Vacation Homes in Florida
Superior vacation granted for our elite guests!
Your Luxury Vacation Houses in Cape Coral, Florida:
Caribbean Island Dolphin View
We have rented ourselves many vacation houses frequently in Florida since 1988. Under the influence of all the good and bad experiences, we had made we planned and built 2 vacation rental homes, one in 2004 and the scond in 2008, before we built this home, the Caribbean Island Dolphin View. In 2004 we started renting vacation homes ourselves.
You will find plenty of pictures and virtual tours on our websites. We also provide information – for our guests on our websites who like it short and for our guests who like to know every detail - under separate pages. It is our target to supply our utmost support and have all questions answered before you book. We are looking forward to receiving your call if you wish to discuss individual questions in person. Enjoy the challenge of browsing the websites presenting the Caribbean Island Dolphin View vacation home in Cape Coral!
Your Hosts 
Heidi Strohschein and Juergen Kroeger