Vacation or staycation needed?
Looking for a Cape Coral vacation rental by owner with no fees?
The Caribbean Island Dolphin View is ideal for a great vacation but also for a staycation. We provide the highest comfort and a very extended equipment.

There is free of charge WIFI, high-speed WLAN, Comcast Internet Extreme with download of
300 mbit/s and smart TVs. On our flatscreen TVs Comcast supplies XFINITY "200+ Channels", including Sports & News, Kids & Family, Entertainment, Streampix, Additional Prefered Channels, Latino Package, High Definition and DVD Recording

Have 1-2 Flexible /Temporary Office/s 


Should you have to work, we offer 2 FlipShelf Folding Workstations which has space in every room. Thanks to its sophisticated, space-saving design, the FlipShelf Folding Workstations deliver style and functionality. High-Speed WLAN is provided free of charge.
Location - Location - Location
The pool/terrace and lanai of the Caribbean Island Dolphin View is facing Southwest and is located in the Gold Coast Estates.
It is a quiet, but easy to reach location in the nice Southeast part of Cape Coral 
Close to restaurants, shopping and beaches
The closest restaurants and a shopping mall including fitness center and movie cinemas are about 1.7 mls = about 30 minutes walk. The beach is by car less than 15 minutes, 6.5 ml. ride. You rech Midpoint Bingo by car in 1.5 ml/4 minutes.
The Caribbean Dolphin View offers a huge tv in the great room and opening the sliding doors you are able to watch tv from the lanai.
Important facts about our
Caribbean Island Dolphin View

3,069 sq. ft. (approx. 285 qm) with 5 Zone A/C System

o    4 Bathrooms  (4 Suites, 3 King-Size, 1 with 2 Twin XL)
o    4 Bathrooms
o    Infinity Pool  
o    Spa
o    Pool Area on 2 Levels

o    Boat Dock / Sun Dock
o    Fire Pit and Cozy Lounge Area, Screened in on the Lower Level
      Pool Area

o    Tiki Hut
o    High Speed WLAN
o    5 Flatscreen TV
o    max. 8-12 Adults + 2 Small Kids*
o    > 8 Sun Loungers  

Luxury Rental Houses / Vacation Homes in Florida
Superior vacation granted for our elite guests!
The offered upscale vacation home in Cape Coral features
A Spectacular oversized "Disappearing Edge" Pool,
A Big Spa, 
A Roomy Pool Area with
Sun Loungers for Each and Every Guest plus
A Large Outdoor Dining Table, 107" x 53" = 2.71 x 1.36 m,
Seating ALL Guests Comfortably. 

The pool of the Caribbean Island Dolphin View is including the spa 54 ft / 16.5 meter long and one of the highlights of our vacation rental houses. Should you wish to spend your vacation in our private vacation rental home - which we planned and built from scratch– you will love the outstanding pool area und the large lanai with a Weber BBQ grill. This vacation home sleeps 8 - 12 guests plus little kids - which of course are also very welcome as our guests. On request we can supply to the existing bedrooms which sleep 8 2 very comfy inflatable queen-size air beds, which are even comfy for 2 adults.The Caribbean Island Dolphin View offers 4 en-suite bedrooms, i.e. each has its own bathroom, 2 bedrooms are master bedrooms with master bathrooms,
3 out of 4 bedrooms have direct access to the pool area. You will find in our vacation home a kitchen with excellent equipment – open style – and a very nice inviting living area. It is not easy to find between the many rental homes in Cape Coral a home which meets all your expectations. We do our utmost to please all our guests and to offer everything and more you may expect. If you are looking for the right location to spend your vacation Cape Coral is a very good choice. Spend your vacation in our privately owned vacation rental home located directly on a canal with direct access to the Gulf of Mexico. You are able to rent a boat to explore the nice waters and beaches in our back yard. Boaters and golfers find with our vacation rental home in an excellent location for your perfect vacation. Cape Coral is very close to Meyers, just a few minutes from Southwest International Airport in Fort Myers.

*Our vacation house Caribbean Island Dolphin View sleeps 8 adults in beds. For larger families we will be glad to offer up to 2 very comfy 
inflatable queen-size beds to sleep up to 12 adults.

WORRIED ABOUT CLEANLINESS?
Our house has always been cleaned professionally which means we already fulfilled the requirements we had to consider according CDC-requirements even before Covid-19 occurred.
No need to be worried. You might be worried as the authorities no nonger require vacation rentals to be cleaned according CDC-cleaning standards. We keep our high standard to clean our vacation house. 
The house is vented throughout after guests leave and before new guests arrive.Thanks for your understanding that the cleaning staff does not let anyone into the house and the garage during the cleaning process.
It is the highest target of our cleaning staff to clean the house perfectly for your worry-free vacation or staycation!
Your health and saftey has always been important to us.

Enjoy your stay in our beautiful vacation home without any worries - you are invited to relax in our beautiful vacation rental house Caribbean Island Dolphin View! Keep on browsing our website to view
our vacation rental home by owner in Cape Coral, Florida
- there are no booking fees!
 

Reviews of our guests you find for example under HomeAway/VRBO as there we offer also this private vacation rental house Caribbean Island Dolphin View, which you may also book exclusively with us. No one else is allowed to rent our beautiful vacation home - we would like to make sure you learn what you get and what you pay for - directly from us. We are licensed at the Florida Department of Business Professional Regulation to rent our vacation home under license no. DWE4605801  and fulfill all requested standards.
The Caribbean Island Dolphin View vacation rental home in Florida is a unique dream vacation home and offers a large amount of extras you may have on your wish list. If you are interested in renting this home directly by the owner just send an e-mail, make an easy click under contact or click on the call me back button. We are looking forward to answering all questions you might have, also in a personal call.
Located in Cape Coral there is our always in a good mood being friendly property manager, fluently speaking English and German. He will take care about you during your stay in our vacation rental home in Cape Coral. Being very friendly and helpful our guests love him.
The rental home Caribbean Island Dolphin View offers a very special Caribbean flair und is individually equipped with high-end features. It offers some extras, has lots of space and a breathtaking pool area with infinity pool and infinity spa in a pool area on 2 levels and a huge boat dock with a wide captain's walk. You may use also those areas for sunbathing or to moor you own boat or a rental boat.
Many of our sophisticated guests are repeating guests. They know and valuated our high standard we also offered in our Caribbean Island Supreme Deluxe and in the Caribbean Island Grand Deluxe. A considerable amount of former guests of the beforementioned vacation houses even booked our Caribbean Island Dolphin View without having seen any floor plans or pictures of the house as they now that we keep our promises.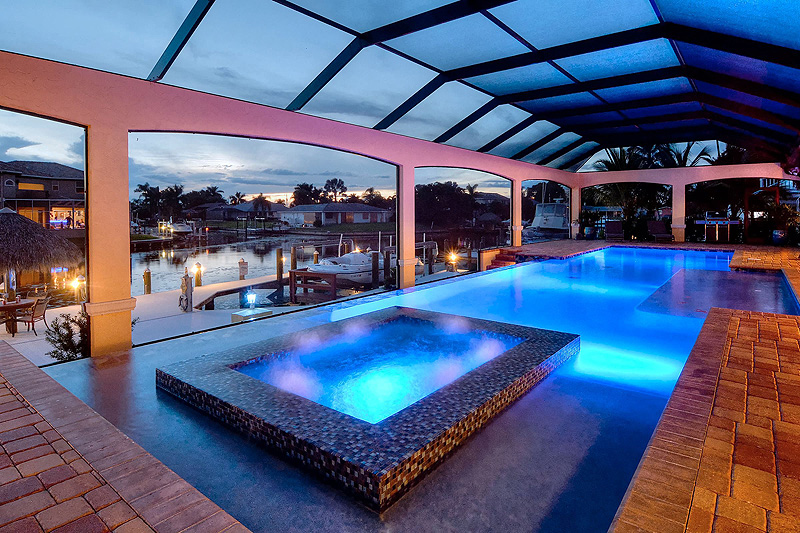 Your Luxury Vacation Houses in Cape Coral, Florida:
Caribbean Island Supreme Deluxe - Caribbean Island Grand Deluxe - Caribbean Island Dolphin View
We have rented ourselves many vacation houses frequently in Florida since 1988. Under the influence of all good and bad experience we have made we planned and built the vacation rental homes Caribbean Island Supreme Deluxe, Caribbean Island Grand Deluxe and Caribbean Island Dolphin View. In 2004 we started renting vacation homes ourselves.
You will find plenty of pictures and virtual tours on our websites. We also provide information – for our guests on our websites who like it short and for our guests who like to know each and every detail - under separate pages. It is our target to supply our utmost support and have all questions answered before you book. We are looking forward to receiving your call if you wish to discuss individual questions in person. Enjoy the challenge browsing the websites presenting the Caribbean Island Dolphin View vacation home in Cape Coral!

Your Hosts  
Heidi Strohschein and Juergen Kroeger