Caribbean Island Supreme Deluxe
Property Description:
Caribbean Island Supreme Deluxe formally named Caribbean Island Deluxe
No booking fees occur if you book with us directly
Enjoy your stay! No surveillance cameras guaranteed - neither indoors nor outdoors!
Location
The Caribbean Island Supreme Deluxe is located in SE Cape Coral, where you have way less mosquitoes and bugs compared to the Southwest part of Cape Coral
Boater-Friendly Direct Gulf Access only approximately 30 minutes to the River - no lock to pass
Boat Dock / Sun Dock with Tiki Hut
Bedrooms for 8 - 12 adults plus little kids - the house sleeps 8 and for more guests there are up to 2 very comfortable inflatable queen-size guest beds to be able to sleep up to 12 adults.

3 King-Size Suites
1 Guest/Office with 1 daybed (convertible to 2 single beds/1 large bed)
3 En-Suite Baths
2,422 sq. ft. (approx. 225 qm) size under air 
Built 2006 / Renovated in summer 2017
4 Zone A/C, individually controllable
Wireless high-speed internet
6 Flatscreen TVs (great room: 75" TV, 2 master suites: 60" TV,
Coca-Cola Suite: 36" TV, guest room/office 34" TV, Lanai: 65" TV)
Kitchen:
Premium cutleries, dinnerware and cooking pots
Living Room
Professional Home Theater
Natuzzi Couch
Dimplex Fireplace
Roomy Screened-in Outdoor Area:
Oversized Infinity Pool & Spa, Electric Heater
Pool/Terrace - Southern Exposure
Weber BBQ gas grill
Oversized Outdoor Dining Table, which seats up to 12 Guests, 107" x 53"= 2,71 x 1,36
>8 Sun Loungers plus extra Chairs and Loungers
Fire Pit
Children and Family-Friendly:
Baby Barrier Fence
Kids cutleries
Kids' dinnerware
Potty-Set provided
Toys available
Baby bed and booster available from property manager for a low fee
Beach chairs
Coolers
Sunbrellas
Allergy-friendly
Boater-friendly
Extra Towels for Boaters 
Large Boat dock to tie up your boat
The boat lift does not belong to the rental contract, ask for an excemption if you bring your own boat. There is no need to use the lift for a rental boat.
We will support you if you look for a boat rental company
Location
The Caribbean Island Supreme Deluxe is located in SE Cape Coral, where you have way less mosquitoes and bugs compared to the Southwest part of Cape Coral
Boater-FriendlyDirect Gulf Access approx. 30 minutes to the River - No Lock
Boat Dock / Sun Dock with Tiki Hut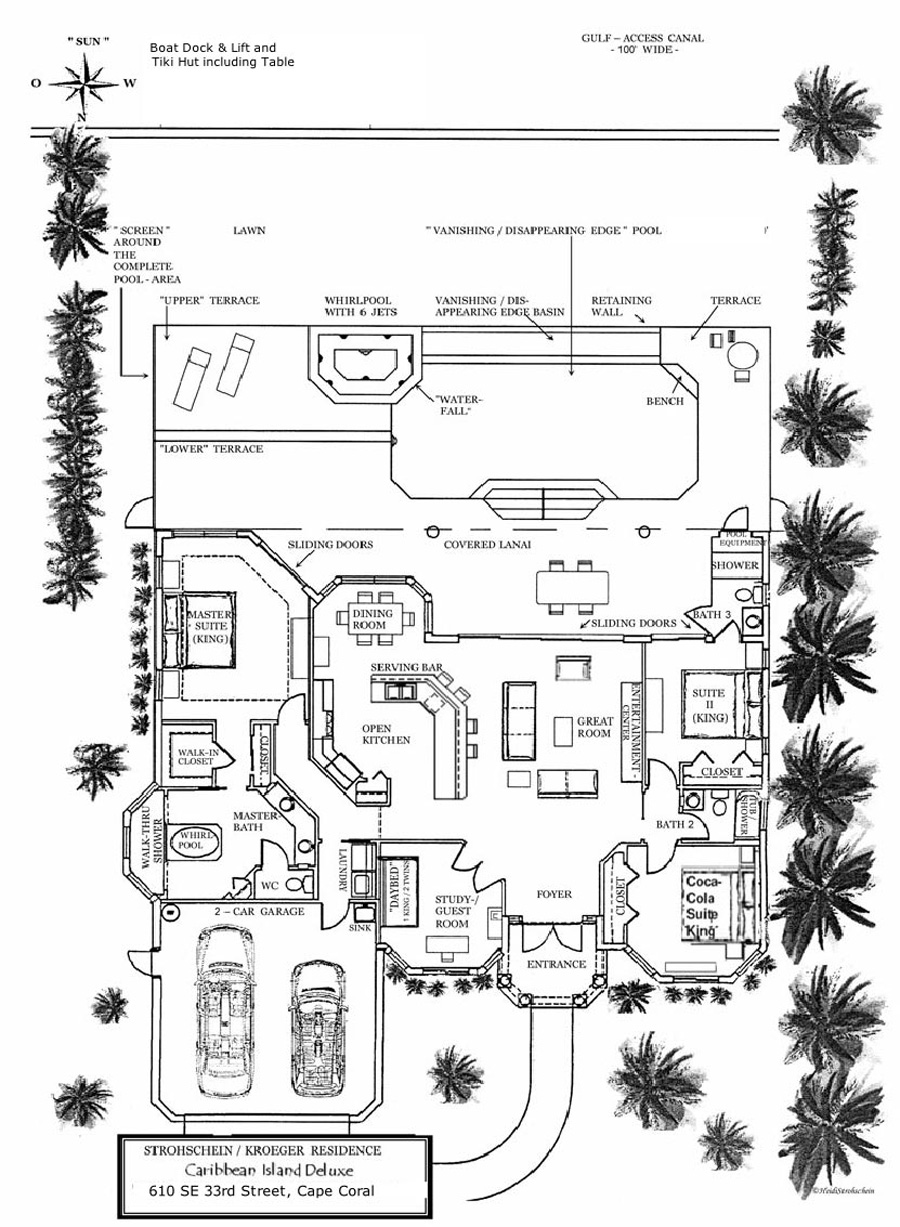 No booking fees - book directly with us

The Caribbean Island Supreme Deluxe is the first vacation rental house in Cape Coral - which was planned and custom built for us, Heidi Strohschein and Juergen Kroeger – and originally just called Caribbean Island. After finishing our 2nd house Caribbean Island Grand Deluxe we changed the name of this house to Caribbean Island Deluxe with the latest name change after the refurbishment in summer 2017 due to major changes and upgrades to Caribbean Island Supreme Deluxe.
The highlight of this vacation house is the impressive oversized "vanishing edge" pool with whirlpool, facing the south. It is located on a canal in the Golf Club Area in Southeast Cape Coral with direct access to the Gulf of Mexico. This part of Cape Coral with a large variety of old mature trees / palm trees is preferred by many of our guests due to the fact that there are short ways to reach shopping facilities, banks and restaurants but also of course the beaches – and to get there by boat without having to struggle with any lock.
We built this vacation rental home after renting houses in Florida since 1988 being very experienced and knowing what a vacation rental house should offer.
This 4 bedroom (including guest room) /3 bathroom vacation rental house presents an extensive high end equipment, e.g. German premium cutleries, dinnerware, cooking pots and a very comfortable Italian leather couch. Just bring your tooth brushes. Due to all advantages this vacation rental house offers - our guests appreciate the amenities - it has an outstanding reputation and great reviews. After receiving requests for a bigger boat dock and a tiki hut we built it.
With our 4-zone air conditioning system the temperature of each bedroom and the great room can be individually controlled as a regular central A/C does not fulfill the demands of our guests. When we built another Caribbean Island vacation rental home with the same plans - the sister house - we had to change the name to differ one from the other. We just added "Supreme Deluxe" to the name of this house and named the second house Caribbean Island Grand Deluxe. The names have nothing to do with the size of the houses. The lot sizes of the vacation rental houses are a bit different as the lot of the Caribbean Island Grand Deluxe is a bit deeper. The real differences between the 2 houses are the pool colors and the entertainment wall in the living room compared to the flat wall with big flatscreen TV. The equipment is exactly the same.
Pool Area
Large sundeck
Pool Screen to protect the area against bugs, animals and dirt
Convenient covered furnished lanai equipped with ceiling fans and speakers
A nice light blue colored disappearing edge pool with turtle mosaics on the ground
Large spa - its waterfall is running into the pool
Electric heat pumps for pool and spa
Pool and Spa control in the living area
Fire Pit
Weber gas grill
Huge window in the screen behind the disappearing edge pool to have the unobstructed effect of the disappearing edge pool
Baby Barrier Fence
Nice colored pavers on lanai and pool area
Lanai
Huge outside dining table -107" x 53"= 2,71 m x 1,36 m with 8 chairs, seats up to 10 - 12 guests easily
Additional outside table with 4 chairs
Low cocktail table and end table with 2 chairs, 1 love chair and ottoman
65" Flatscreen tv - even visible from the pool
The main feature of the south facing pool area is the disappearing edge pool with a huge waterfall to the south and on this side of the pool the pools seems to be part of the canal., i.e. as if there was the pool an extension of the canal. To support this great view – also to the surroundings – a big window was installed in the pool screen. The large pool is a very nice focal point of the Caribbean Island Supreme Deluxe where you are able to go into the swimming pool just for having fun and also to swim your laps.
Kitchen
This vacation rental home offers a kitchen with a high end equipment which you probably wished to have at home
You have everything you need to cook a very good meal and also to put it on the table and dine from fine bone china from Villeroy & Boch. To the high end features we count:
Counter tops and breakfast bar made of very nice real granite stone
Nice dark cabinets
Kitchen appliances and sinks made of stainless steel
S/S oven/baking oven 
High end s/s Dishwasher
S/S refrigerator – featuring ice and crushed ice, water filter, water dispenser, and offering some cold drinks upon your arrival to have the first rest and relax after your travel to the house
Keurig (pads available at Costco, Publix, ..) and kitchenaid coffee maker
Kitchenaid 4-slice toaster
Belgian waffle maker
Kitchenaid blender
Microwave featuring light and exhaust fan
Cooking pots made in Germany from Fissler. - The original Fissler's pro collection®, for professionals.
Plenty of BSF cutleries made in Germany for 24 guests
Fine dining china made by Villeroy and Boch, Germany for 24 guests
Additional unbreakable dinnerware for 12 guests
Dreizack Wusthoff professional Classic s/s steak knives, s/s made in Solingen, Germany
Dreizack Wusthoff knife block Classic cutlery, s/s made in Solingen, Germany
Alfi vacuum carafe Dan, tea-pot and Alfi vacuum carafe Juwel, coffee pot
Plenty of storage, cooking / baking utensils
A large range of different kinds of drinking glasses, from water to wine and cocktails glasses
Polycarbonate drinking mugs for the pool area, unbreakable
Granite breakfast bar - 4 chairs
Dining Room...
belongs to the high ceiling living room
There is a very nice view above the pool and above the canal
The nice dining table offers plenty of room of 6 - 8 guests - the breakfast bar adds the space for inside dining to 12 guests
Laundry Room
Washer and Dryer
Several cleaning utensils
Vacuum
Flat iron and board
Garage
Remote operated
Cooler on wheels
Sink for easy cleaning of the cooler
Beach parasol
Beach chairs
Pool toys
Families with Kids:
Up to 2 children of 12 years of age or below stay for free - we are kids-friendly and offer according to this some nice features
Kids cutlery of BSF (high end German cutleries)
Potty seat
Baby Barrier Fence to be able to isolate the pool and the lanai area for your children's safey
Children's games and books Pool toys
You may rent baby bed and booster set from property manager for a low fee for the full stay
Allergy-Friendly
Our vacation rental home is allergy-friendly
All floors are tiled
Smoking is not permitted in the house
You may not bring any pets
You may smoke on the lanai if the doors to the house are all closed
Great Room
The vacation rental Caribbean Island Supreme Deluxe offers a great room very tastefully furnished and shows bright Caribbean-like colors. This matches also the deco staff and pictures in this nice vacation home. The big sliding door to the lanai is directed to the south and offers you a stunning view above the pool area and the Santa Fe canal where the vacation rental home is located.
The house is built with an high and open style living area like usual in Florida and also in the Caribbean. The huge palm blade equipped fan offers a nice breeze while you are enjoying a good movie or cd sitting in the very cozy couch made of real leather by Natuzzi, Italy.
We offer since our refurbishment (finished in July 2017) a Dimplex® fireplace and above a 75" flat screen tv on a granite podestal, matching the table and end table.. There is an outstanding sound system from Yamaha and you have the chance to bring and enjoy your own CDs and DVDs, even German ones. Sonos offers to hear radio stations from all over the world. There are outside loudspeakers which you control from the in the living room, master bathroom and on the lanai and spa.We offer free high speed Internet access via cable. A lot of several games and playing cards are waiting for the "gamblers".
We thank all guest for non smoking in the allergy-friendly vacation rental house. Smoking is allowed on the open pool deck when the doors to the inside are closed during that time. We do not allow any pets. People suffering from allergies may like to know that the house has tiles throughout.
Suites and Guest Room
Study There are 3 bedrooms (king-size beds in each) with own baths and the study can be used as a 4th bedroom for guests or children
Suite St. Thomas has a large master bathroom a walk in closet and a built in-closet.
Suite St. Lucia the third suite, which is called the Coca-Cola Suite, offer a built in closet
All 3 bedrooms are equipped with dressers, closet, wall-mounted flat screen tvs* and iHome radio for iPhone 4 - iPhone 10.
The guest room is also equipped with a dresser and a wall mounted flat-screen tv.
Of course there are ceiling fans and telephones in all rooms.
*TVS: 60" in the 2 master suites, 46" in the Coca-Cola Suite, 34" in the guest room plus 70" flat-screen TV in the great room and 65" flatscreen TV on the lanai
Guest Room
This room is a guest room or a study room, whatever you might need you can convert the day bed can into
1 King-size bed or
2 Single beds
Dresser and mirror
Flat wall-mounted tv
This house sleeps 8 guest - and even more
To sleep you all.we supply up to 2 very comfy queen-size inflatable airbeds.
Due to the extended high-end equipment there are a huge amount of towels, plenty of cutleries and plates. There is everything you need - including an oversized outdoor dining table for up to 12 guests.
The property manager offers baby beds and igh chairs on request.


6 Large Flatscreen TVs
Great Room: 75" TV
2 Master Suites: 60" TV
Coca-Cola Suite: 36" TV
Guest Room/Office 34" TV
Lanai: 65" TV


TV - Packages

We offer a wide range of tv packages including sports package to enable you to watch American football, baseball games, The German Bundesliga (Soccer), Premier League, Champions League, Formula 1 Racing, Tennis......
Bathrooms
All suites has its own bath, Suite St. Thomas has a walk-through shower with a raindance shower and a regular shower, a Jacuzzi bath tub and a separate toilet room.
The bathroom to the Suite St. Lucia is the pool bath that has a regular shower and toilet and
the bathroom to the Coca-Cola Suite features a tub with a shower and also a toilet.
There is no need to bring anything else than your tooth brush. This vacation house offers plenty of washcloths, towels of all kinds and also hair dryers in each of the bathrooms.
Garden
We made sure to have real nice tropical palm trees and plants in the garden to enhance the nice area. We gave the front yard was given a facelift during the renovation in 2017. The nightblooming jasmin smells very nice at night
Gardeners are taking care about all the plants and the grass on a regular basis
Boat Dock and Sun Deck
There is a private boat dock and sun deck on the property of this beautiful vacation rental home in Cape Coral. You may dock your own boat or a rental boat at the boat dock. 
You have direct access from our vacation rental home Caribbean Island Supreme Deluxe to the Gulf without any lock and only one bridge to pass. The way out to the river is approx. 30 minutes. The wide canal with the view above intersecting canals offers a wide variety of fish to watch. Even dolphins and Manatees are exploring this big canal once in a while.
You may rent a boat and moor it at our dock. We rented boats ourselves for more than 10 years and stopped this in May 2018, i.e. you may ask us about boating as well. We know since 2005 a very reliable boat rental company which we recommend to you. They get you the boat you wish to ride to the house and pick it up after the rental period.
We are experienced boaters and can help you finding the right boat before you get there to save the vacation time to use the boat and not to look for a boat. You you may use the dock which is big enough for all common size rental boats. The lift is not belonging to the house rental, but you do not need to have a boat lift of a rental boat. 
Enjoy the boat ride along the canals and the chance to have the choice of beaches where you might wish to anchor. The large sun deck can be perfectly used to relax and of course to enjoy the sun. It is also used as an observation dock to watch the fishes passing – sometimes even "flying by". As there are many customers who enjoy to sit on the sundeck directly on the river we built a new sundeck/dock in 2012 which offers plenty of space and also a tiki hut for your convenience. The view above the canal is very nice. The atmosphere there is very tropical also due to the meanwhile high grown coconut trees on our property.
Boat Riding Times from our Caribbean Island Houses Caribbean Island Supreme Deluxe, Caribbean Island Grand Deluxe and Caribbean Island Dolphin View
From our vacation rental house Caribbean Island Grand Deluxe to Sanibel Island or Fort Myers Beach you need compared from the dock of our vacation home Caribbean Island Supreme Deluxe the exact same time, you will be a bit faster if you start from our vacation home Caribbean Island Dolphin View due to the shorter way to the river
From the boat dock of the Caribbean Island Grand Deluxe you ride the boat approx. 13-15 minutes to the river and the boat ride from the Caribbean Island Supreme Deluxe takes approx. 30 minutes and from our Caribbean Island Dolphin View just 2 minutes
From our vacation rental houses Caribbean Island Grand Deluxe and Caribbean Island Supreme Deluxe you just pass 1 bridge and no lock, i.e. you o not spend any waiting time at any lock
Property Manager
takes care about checking you in and out and makes you familiar with all important things – in the house and on the property and in the area
is located in Cape Coral
Voltage
The electrical devices you bring over should operate also with 110 volts.
The vacation home Caribbean Island Supreme Deluxe offers adapters from 220 to 110 volts to be used In the vacation house.
Safe
There is a waterproof fire-resistant safe that keeps your valuables.
First Aid Kid
is located in the master bathroom
Price Information:
Net rental in USD per Week + 11.5% taxes
| | | | | | | | |
| --- | --- | --- | --- | --- | --- | --- | --- |
| Season | 2 Guests | 3 Guests | 4 Guests | 5 Guests | 6 Guests | 7 Guests | 8 Guests |
| 1 May until 18 Dec 2020/16 Dec 2021 | 1,810 | 1,920 | 2,030 | 2,140 | 2,250 | 2,360 | 2,470 |
| 19 Dec 2020 until 30 April 2021 | 2,300 | 2,300 | 2,300 | 2,410 | 2,520 | 2,630 | 2,740 |
| 17 Dec 2021 until 30 April 2022 | 2,300 | 2,300 | 2,300 | 2,410 | 2,520 | 2,630 | 2,740 |
| | |
| --- | --- |
| Final Cleaning: | 2-8 Guests USD 175 + 11.5% Tax, 9 Guests and above USD 230 + 11.5% Tax |
| Electric Fee: | USD 25 per week is covered by the owner, additional consumption USD 0,12/Kwh + 11.5% tax |
| Security Deposit:   | USD 700 (refundable) |
| Down Payment: | 50% of the rental, minimum USD 950. For bookings > USD 6,000 we ask for 2 down payments. |
| Due Dates: | Down payment is due within 1 week after conclusion of the contract, 2nd down if requested, 12 weeks ahead of arrival and final payment 6 weeks ahead of of arrival |
| Payment Methods: | Payments may be made by wire transfer or cashier's/certified bank check. |
Rental rates might be changed without notice. Price changes will not apply to existing contracts, with the exemption of cleaning fees and taxes.
= Available
= Confirmed
= Check In/Out
January 2022
Su
Mo
Tu
We
Th
Fr
Sa
1
2
3
4
5
6
7
8
9
10
11
12
13
14
15
16
17
18
19
20
21
22
23
24
25
26
27
28
29
30
31
February 2022
Su
Mo
Tu
We
Th
Fr
Sa
1
2
3
4
5
6
7
8
9
10
11
12
13
14
15
16
17
18
19
20
21
22
23
24
25
26
27
28
March 2022
Su
Mo
Tu
We
Th
Fr
Sa
1
2
3
4
5
6
7
8
9
10
11
12
13
14
15
16
17
18
19
20
21
22
23
24
25
26
27
28
29
30
31
April 2022
Su
Mo
Tu
We
Th
Fr
Sa
1
2
3
4
5
6
7
8
9
10
11
12
13
14
15
16
17
18
19
20
21
22
23
24
25
26
27
28
29
30
May 2022
Su
Mo
Tu
We
Th
Fr
Sa
1
2
3
4
5
6
7
8
9
10
11
12
13
14
15
16
17
18
19
20
21
22
23
24
25
26
27
28
29
30
31
June 2022
Su
Mo
Tu
We
Th
Fr
Sa
1
2
3
4
5
6
7
8
9
10
11
12
13
14
15
16
17
18
19
20
21
22
23
24
25
26
27
28
29
30
July 2022
Su
Mo
Tu
We
Th
Fr
Sa
1
2
3
4
5
6
7
8
9
10
11
12
13
14
15
16
17
18
19
20
21
22
23
24
25
26
27
28
29
30
31
August 2022
Su
Mo
Tu
We
Th
Fr
Sa
1
2
3
4
5
6
7
8
9
10
11
12
13
14
15
16
17
18
19
20
21
22
23
24
25
26
27
28
29
30
31
September 2022
Su
Mo
Tu
We
Th
Fr
Sa
1
2
3
4
5
6
7
8
9
10
11
12
13
14
15
16
17
18
19
20
21
22
23
24
25
26
27
28
29
30
October 2022
Su
Mo
Tu
We
Th
Fr
Sa
1
2
3
4
5
6
7
8
9
10
11
12
13
14
15
16
17
18
19
20
21
22
23
24
25
26
27
28
29
30
31
November 2022
Su
Mo
Tu
We
Th
Fr
Sa
1
2
3
4
5
6
7
8
9
10
11
12
13
14
15
16
17
18
19
20
21
22
23
24
25
26
27
28
29
30
December 2022
Su
Mo
Tu
We
Th
Fr
Sa
1
2
3
4
5
6
7
8
9
10
11
12
13
14
15
16
17
18
19
20
21
22
23
24
25
26
27
28
29
30
31
Important additional information to our T&Cs:
We confirm in all contracts that we allow customers who book stays after 1 May 2020 and might not be able due to new travel bans after the booking due to COVID-19 to postpone their stays. The new dates should be taken within 18 months from the first original booking date. Arrival and departure should be on a Saturday and in the same season like the original booking. If you decide to stay in a more expensive season you can postpone ans you pay the price difference. There will be no refunds if you postpone to less expensive season. Please understand that us as private owners do not grant any refunds.
Thank you for your understanding that we are not going to make any exemption and follow strictly the ordinances given by the Governor of the State of Florida and/or other authorities. The cleaning staff follow the CDC (Center for Disease Control and Prevention) instructions.

Bothering about travel insurance / Covid-19?
We highly recommend to get travel insurance to cover any health issues. Please check whether you find what you are looking for under https://www.generalitravelinsurance.com
FYI: We have no connection to any insurance company bu recommend to get insurance.
Terms and Conditions
Kids Bonus
2 Children under 12 years of age stay for free!
We are very kids-friendly!
+ Baby-Barrier Fence can be provided on request to divide pool area and pool
+ Kids' cutlieries+ Kids' dinnerware
+ Potty-Set provided
+ Tools available
+ Baby bed and booster can be provided from the property manager for USD 25 ttl. for the entire stay


Arrival and Departure Day
Saturdays preferred - especially during high season and during school vacation times - we make exemptions, please ask


Rental Rate Information
Rental rates are based on the amount of guests and ages of the children mentioned in the price list per week + 11% taxes.
Peak Season Surcharge
Minimum 2 weeks stay and seasonal price increase of 20% is required during Easter and Christmas season/vacation times. Peak season starts in general on the Friday before German Christmas school vacation time, which is always around 20 December of each year.
Minimum Rental Time
1 Week - please ask for exemptions if you are unable to stay for a full week
2 Weeks if your travel dates "touch" Christmas or Easter school vacation periods
Occupancy / Cleaning Fee
Sleeps 8 - 12 guests plus babies + little kids - The house has beds for
8 and we can supply 2 inflatable queen-size air beds, which are even very comfy for 2 adults.
It is expected 2 guests are using 1 king-size bed/1 bedroom. Using additional bedrooms are causing an increase in cleaning cost. Interims cleaning can be arranged directly with the property manager.

Rates Include:
Bedding, hand-, shower- and beach towels, pool and garden service, garbage collection, basic TV and telephone fees , local calls, water, gas (BBQ grill), W-LAN high-speed Internet access, Baby Barrier© Pool Safety Fence, on-site service of bilingual property manager (German and English)

Down Payment
30% of the rental, but minimum USD 850
due within 1 week after signing the contract

Electric Fees
USD 25 per week is paid by the owner,
additional consumption USD 0,12/kWh + 11.5 % tax will be charged and is to be paid to the property manager during check out. Meter will be read during check in and check out.
Weber BBQ-Grill
The gas fort he Weber BBQ-Grill is paid by the owner BBQ Cleaning if left uncleaned: USD 40. The BBQ should be cleaned after each and every BBQ
Taxes
11.5% (6% sales and 5% tourist tax and 0.5% surtax) are to be charged on all costs occurring due to a short-term vacation rental.
Baby Bed / Booster
Baby bed and booster can be received against a service fee of USD 25 total for the entire stay from the property manager
Check In / Check Out
Check in is usually in the morning after the arrival date, check out is mandatory before leaving the house and has to be arranged with the property manager.
Important Information
A travel insurance and personal liability insurance is highly recommended.
Prices may change without notice.
There are no "hidden" costs!
Exclusive Rental by Owners
The vacation rental houses on this website are rented directly from the private owners Heidi Strohschein and Juergen Kroeger, who are the sole authorized contacts and exclusively renting these high-end vacation rental houses in Cape Coral. Without any exemption no one else is permitted to rent our homes. We are only private home owners who rent only their own houses (and nothing else) in this website and we are not travel agents.
Security Deposit
USD 700 - to be paid with the final payment 6 weeks upon arrival -
for the vacation rental homes
Caribbean Island Deluxe and
Caribbean Island Grand Deluxe
USD 1,000 - to be paid with the final payment 6 weeks upon arrival -
for the vacation rental house
Caribbean Island Dolphin View
Terms and Conditions for the Privately by Owners - Heidi Strohschein and Juergen Kroeger - rented vacation houses
Caribbean Island Deluxe, 610 SE 33rd ST, Cape Coral, FL 33904, Caribbean Island Grand Deluxe, 820 SE 43rd ST, Cape Coral, FL 33904 and
Caribbean Island Dolphin View, 2526 SE 22nd Avenue, Cape Coral, FL 33904
 

Contracting Parties
The rental agreement (consisting of agreement and confirmation showing the rental period) is concluded between the guest/renter who is min. 25 years of age and the owners of the abovementioned houses Heidi Strohschein and Juergen Kroeger. The agreement is valid with one signature of the owners on the agreement. The contract is about the vacation house as shown and described on the websites. Any exemptions to the terms and conditions must be approved in writing in advance. Should the owner privately use closets or garages and it is not mentioned on the website the renter is not entitled to claim a refund of rent. Boats or other vehicles shown on pictures do never automatically belong to the house rental contract. Boats may be rented individually through the intermediaries Heidi Strohschein and Juergen Kroeger, house and boat rental contracts are not connected to each other. It might be the case the owner uses a part of the garage for a car or storage. There is no guarantee that the renter's car fits into the garage. Most houses have a privately used and locked closet and garage. This is known and accepted by the renter.

 

Rental Agreement / Rental Rates
The rental agreement may be sent by e-mail or fax. Confirmed and signed rental agreements are required for any rental agreement and reservation to be valid. Any rental agreement is independent and not connected with any other contracts like flight tickets or travel insurances. The address of the vacation house is mentioned on the top of the contract. The renter is obliged to double check the rental address which is also clearly stated on the website and the rental rates before signing the contract which shows the address on top of the rental contract to make sure he rents the house he wants to rent. The renter has to avoid any misunderstandings possible due to the similar names and addresses of the houses. Rental rates shown on a rental agreement are binding. Changes have to be made if a pricing error is obvious and unmistakable and could have reasonably been recognized as a mispricing or calculation error. Further reasons for changing the contracts are adding additional guests or if new taxes, government or cleaning fees etc. are valid for the time booked. Prices are liable to change at any time, but rental rates changes will not affect agreements in respect of which we have already signed as a confirmation. The boat dock on the premises may be used if the owner will be informed upfront about the boat rental company whose boat will be moored or if you bring your own boat. The boat lift does not belong to the rental contract and may be used if you rent a boat over the owner with Cape Escape Boat Rental, L.L.C.. A writing confirmation of the owner has to be made in such cases before the arrival date.

 

Security Deposit
The security deposit is a refundable amount established as a safeguard against property damage. The security deposit funds may be applied for supplemental cleaning if the property manager determines that you did not leave the property neat and tidy, and in broom clean condition for the housekeeping staff. Security deposit is not meant to be to deduct any electric fees. Security deposit will be refunded within approximately 1-6 weeks of the departure date by check to guests from the US and Canada and by transfer to European guests. The renter makes sure the correct full address including zip code is supplied for the rental contract to avoid any problems sending the deposit back by mail. European guests please provide the IBAN number and the exact name of the owner of the account. Should a security deposit have been reimbursed unconditionally it does not rule out the option of asserting damage.

 

Payments
In order to reserve this rental property for the renter the owner must receive the signed agreement. The renter arranges the down payment mentioned in the contract within 1 week of initial reservation. Both the deposit and the payment of the balance including security deposit due will be paid 6 weeks ahead of arrival. Late reservations (confirmed within 6 weeks of the planned arrival date) will require payment in full. Payments are not accepted on arrival. The owners have the right to cancel the contract if payments are late. Failure to pay balance when due will result in cancelation of reservation and loss of deposit. You will still be liable for the balance due. The renter will accordingly be responsible for any consequences. The owners are entitled to cancel the contract if the renter does not make the payments according to the contract.

 

Extra Charges
Extra charges not included in the contract are as follows:

Electric fees: The renter has to pay electric fee according to price list valid at the time of the stay. The property manager and the renter read the meter during check-in and check-out and keep a written notice. Electric fee has to be paid cash to the property manager during check out. Renters staying more than 3 weeks agree to make an interims payment every 2 weeks. Deposit is not meant to be to deduct any electric fees. Please note that it is recommended to close doors and windows to avoid extensive costs. High usage of the whirlpool will also cause additional electric power consumption.
If the cleaning service needs to clean the grill, there is an extra charge to be paid directly to the property manager cash during check out. We recommend that you always clean the grill after use for hygienic reasons.
Additional mid-stay/interims cleaning fee has to be paid directly to the property manager.

Check-in / Check-out (arrival and Departure)
4 p.m. is the earliest allowed check-in time. This allows the housekeepers to complete their cleaning duties. The keys will be in the key box at the house from 4 p.m. for your convenience to enter the house in case of late arrival. Some houses do have a door lock that operates directly with the code. About 5-10 days prior to the stay the renter receives detailed house information and the code to access the key lock box or to be entered into the door lock. The renter has to contact the owners if the information is needed earlier and also - if for whatever reason - he will have not received any information to get access to the house 2 days prior to the arrival at the latest. You will find a notice about the time of the check-in on the kitchen counter. The renter will contact the property manager at least 2 days date prior to departure to make an appointment to be checked out. This is the property manager: Sigrid Speese, phone 239-565-7717. Check-in and check-out before you leave is mandatory for all adult guests. There is plenty of information supplied important to all guests. The house has to be broom clean when the renter leaves the house. The renter puts all dirty dishes into the dishwasher and starts it. Towels are washed by the renter during the stay, excepted are the towels used directly before departure. Towels used on the final day and also beddings are going to be washed by the cleaning staff. Should the renter leave the house without any check-out with the property manager he will be hold fully responsible for all damages.


Pets
Absolutely no pets allowed in the house or on the premises.


Smoking
Smoking is strictly prohibited. This house is a non-smoking, allergy-friendly house as advertised. You understand that smoking inside or near open windows or a door is prohibited and any violation will result in forfeiture of all deposit and be subject to additional damages. Smoking is permitted on the patio. Please us ash trays which are underneath the kitchen sink when you smoke outside, also on the dock. Proper disposal of butts is expected. Please do not throw them into the canal!


No Wheelchair and no Walker Access
The house is not accessible to wheelchairs of any size as it has either small hallways and/or steps. Wheelchairs and walkers have to stay in the garage and cannot be used in the house.

 

Condition of the House - Repairs and Damage
The renter agrees to maintain the house in the condition it was in at the time he took possession and to assume responsibility for any loss or damage beyond normal wear and tear. The renter will leave the house broom clean, i.e. that no extraordinary housekeeping will be required after the departure (as mentioned under #6). Please notify the property manager about any kind of damage or defects occurring upon arrival within 24 hours. The renter agrees to both notify and reimburse for all necessary and reasonable repairs, replacement for damage or destruction of property caused by the renter or his guests, or for extra cleaning required. We recommend you take out property damage liability insurance. The renter agrees in case of official severe weather warnings, like hurricanes, big storms or tornadoes – if he does not put himself into any danger – to get outdoor furniture inside the house or garage and to put electrical roll down shutters down, if there are some. In accordance with the law, excessive noise (i.e. noise exceeding the generally recognized limits) is prohibited at any time. The renter and his guests have to refrain from making any noise at night between 10 p.m. – 7 a.m. Please avoid to disturbing the peace of the neighbors. Do not exceed 55 dBA according Cape Coral Police Dept., i.e. neighbors should not hear any noise on their properties. To respect the neighbors full nudity is not permitted, female guests are asked not appear topless in the pool area. Service staff usually gets to the property without notice. Pool area has to be accessible any time, doors must not be locked. Renters comply with parking regulations and show consideration to neighbors. Dispose of garbage has to be in accordance with the usual practice at the property. Renters abide by any order issued by police or any regulation authority and refrain from engaging in any illegal, drunken, offensive or obscene behavior. Renters are responsible for guests and visitors. Due to health and safety and fire regulations guests must not sleep on couches. If you wish to add an inflatable queen-size bed, please ask the property manger. Furniture is not to be moved and only outdoor furniture is to be used outdoors. Re-tuning of the television/video system is not permitted. If re-tuning is necessary after such use, the guest will be required to pay any costs incurred.

 

Special Hint - AC, Gas Tanks, Pool, Children
The A/C should never run below 75°F as it can freeze in. If this was the case the repair costs of min. USD 200 had to be paid by the renter and for at least 2 days A/C was out of order. The gas tanks may be used at your own risk. Please make sure the gas tank is always shut off while it is not in use. If a gas tank is empty, please inform the property management and put the empty tank (without the cap on top) into the garage, where you find a replacement tank. We allow the hint that parents and guardians are responsible for the children. The pool is an unusual shape and corners due to the integrated beach zone (at the Caribbean Island Dolphin View) and steps and you might not expect them while you are swimming. Do not jump in the pool as it is not of the same depth throughout and not deep enough for safe jumps. The use of the pool is at your own risk. The renter is aware that not each and every pool or spa had a handrail. Due to several risks do not swim in the canal. The ladder is not meant to be as an invitation to swim in the canal. Please consider the before mentioned hints and give this information to all guests and children. Please make sure that children are never unattended. The renter will be hold responsible for all accidents or acts of god that may occur and for all damage caused, also caused by children.

 

Complaints and Objections
Complaints and objections to the house have to be reported in writing immediately to the property manager, severe ones also to the owners. Any kind of complaints and objections are against the owners and have to be submitted in written form on the day of occurrence. The renter will allow, in case of defects or damage, a reasonable period of time to solve the problem. You rent a house with pool, eventually with spa and heater. No one guarantees any certain pool and/or spa temperature. In case of real cool temperatures the heater may shut off automatically to avoid any damage. In this case do not put the heater on again.

 

Indemnification
Use of the property, its contents, equipment and facilities are at your own risk. The tenant shall indemnify and hold Property Owner and Property Manager free and harmless from any and all liability, claims, loss, damage or expenses arising by reason of any injury, death or property damage sustained by any person including tenant(s) or guest of the tenant, where such injury, death or property damage is caused by negligent or an intentional act of the tenant or any guest of the tenant. Notwithstanding anything to the contrary, this agreement is binding and effective when no signature is required, and renter's affirmative assent to the terms is expressed by renter's reservation of the house. The renter agrees to release owner from and against all liability if the following matters occur: war, riots and civil commotions, pests, natural phenomena, vermin plagues, official orders, unexpected construction works, any kind of noises, or occasional electrical power outage and water supply outage. The owner is a private owner and not a travel agent.

 

Occupants/Maximum Number of People
The renter understands that the rate was based on the number of guests represented during the reservations process. Guests aged 13 and over are counted as chargeable guests. Any party falsely representing the number of people in the home or exceeding the number paid for may be subject to immediate eviction without refund. Over occupancy is considered a serious violation of this rental agreement. Owner and property manager have to be notified of short-term visitors staying overnight.

 

Cancellation Policy
Please note that we are private owners. Cancelations affect us significantly and we cannot easily write off lost income from cancelations, as large hotels do. You as the renter, take responsibility of any loss due to your cancellation. To protect against the loss of your rental payments, travel insurance is strongly recommended. Should the renter cancel the contract the down payment will be forfeited. If you should have to cancel your booking, please inform us immediately by phone and by e-mail to get us the opportunity to be able to re-rent the time you have to cancel. The renter has to fulfil his/her duties according the contract and make the payment in full if the time cancelled could not be rented to someone else. If the house is re-rented for the same days cancelled a prorated refund will be given. Should the renter cancel the contract the down payment will be forfeited. No refund will be given if property is not re-rented for the same days cancelled. With cancellation of the contract the remaining payment is still due and has to be paid according to the contract. To protect against the loss of your rental payments, travel insurance is strongly recommended. Non-observance of rules mentioned in nos. 4, 7.,8., 9., 10 and 14. of this rental terms may result in immediate eviction without refund and loss of deposit. Any violation of the non-smoking & no-pets rule will result to a extra cleaning fee of USD 500/case/pet. The renter agrees to release the owner from and against all liability should the owner due to unforeseen reasons and beyond the control of the owner be forced to cancel the contract. If the owner needs to cancel the reservation due to the fact the property should be made or determined uninhabitable under local laws and ordinances during the specified rental period for any reason whatsoever, including, but not limited to, so called "Acts of God" the landlord will return the funds paid by the guest and this rental agreement shall be rendered null and void for all parties. Should the house not be available due to the aforementioned reasons the owner/intermediaries may offer to accommodate the renter in another vacation house with similar or better standard without the necessity to change the contract. The owner / intermediaries are not obliged to offer another house in the before mentioned case. The intermediaries have absolutely no liability for damages. No refunds for early depatures.

 

Severe Weather Policy
Cancellations or early departures due to inclement weather do not warrant any refund. This includes hurricanes, storms, tornadoes and any nature occurrences. Please purchase travel insurance from your insurance company.

 

Book "Caribbean Island Information", Brochures and Informative Literature
The comprehensive book "Caribbean Island Information" and further informative literature is in the house and belongs to the inventory of the house. It is meant for you and also for future guests for information and support during your stays. It is neither permitted to take it nor to copy it without written permission by the owners. The information is as of press date. Errors excepted.

 

Passports, Visa, Foreign Currency Regulations and Health Regulations
The renter is responsible to fulfill all requirements and liable for all disadvantages resulting from any kind of non-observances.

 

Legal Venue
The legal venue for all disputes arising from this contract is Cape Coral, Florida.

 

Severability Clause
If any section, subsection, paragraph, sentence, clause, or phrase of this agreement shall be declared invalid for any reason whatsoever, such decision shall not affect the remaining portions of this contract, which shall continue in full force and effect. The renter accepts the rental agreement. To this end the provisions of this contract are hereby declared to be severable. ©Copyright Juergen Kroeger & Heidi Strohschein
Booking calculator
Please adjust the number of days you want to stay. The minimum stay is 7
The minimum stay over Easter and Christmas is 14 days!
---
Pet fee (per pet + taxes)
---
Important! The calculator is just an estimate and will not provide information about availability, please contact us for availability and detailed pricing!